In business since 1985 and with more than 30 years of experience, Borgia Installations knows how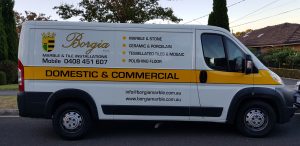 to do the job right the first time. We specialise in several different services and treatments for natural stone.
Installation of tile, marble, floating floors, natural stone, ventilated walls as well as custom mosaic-tiles and restoration of deteriorated marbles.
Our experienced team is also specialized in marble and stone treatments and we take pride in our outstanding record of quality workmanship.
The Borgia marble & tile Installations is proud to be able to carry out meticulous restoration of stones and marbles, bringing back to its original brightness old floors and walls that are generally condemned to be replaced.
Borgia utilises only high-quality Italian products and machinery for its protective and restorative treatments capable of removing stains from oil, rust, coffee, wine from all types of marble, ceramic stones and porcelain.
The longevity of our work is an evidence of the level of service and quality you'll receive when you choose our family-owned-and-operated business. Our trustworthiness, experience and European references are what set us apart. We have worked on high-end projects across Italy and Europe, United States and Australia. Let us help you create a wonderful living space.
Should you be considering a large project or small tile installation, you can count on us.